Amenities and News Fall Foliage
Portsmouth, NH, a city of roughly 21,000 people, sits near the mouth of the Piscataqua River, a short river that divides the two states New Hampshire and Maine. Settled in 1623, Portsmouth claims to be the nation's third-oldest city. It served as a focal point on the Eastern seaboard until the late 1800s when rail travel overtook the shipping industry. John Paul Jones' shipi, The Ranger, was built in Portsmouth, and the Portsmouth Naval Shipyard (which lies across the river in Maine) was established in 1800 as the country's first Naval shipyard.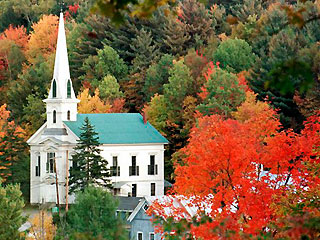 Your stay in Portsmouth will be noted by scenic gardens and parks, history of New England area, lighthouses, museums, local brewers that are known world-wide, various attractions, shopping opportunities, and great atmosphere prevailing all around the city. All in addition to the beautiful Fall foliage surrounding the city and coast. New England is known for its beautiful fall foliage set amidst a scene of colonial towns and blue skies. During the ISPCS conference it is highly recommended that you go 'leaf peeping'. Several great locations to enjoy the foliage include: The Kancamagus Highway and The Great Bay area.
Sites of Interest
Music Hall - historic 900-seat theatre that was built in 1878. The theatre presents diverse and cultural programming featuring various outreach programs, international movie series, historic plays, and special celebrations.
Strawbery Banke Museum - outdoor history museum that tells the story of many generations that settled in Portsmouth, NH from the 17th to the 20th century.
Albacore Museum - tour the most advanced U.S. submarine built before the age of atomic submarines.
Prescott Park - located on the edge of the Piscataqua River and across from the Strawbery Banke Museum, great place to walk around and enjoy Portsmouth, NH scenery. Regular event occur throughout the Spring, Summer, and Fall seasons, check the website for specific details.