Information about the Conference Venue
Welcome to the International IEEE Symposium on Precision Clock Synchronization for Measurement, Control and Communication - ISPCS 2007. We are pleased to welcome you at this event in the beautiful city of Vienna.
Conference Venue Address
Austrian Academy of Sciences
Dr. Ignaz Seipel-Platz 2
1010 Vienna
Austria
Telephone
Tel: ++43-2622-23420
Fax: ++43-2622-23420-99
Location of the Auditorium and Registration
The auditorium is located in Festive Hall. The Festive Hall can be reached by using the main entrance and taking the staircase or the elevator to the first floor (see map below for location of nearby public transport and entrances). More information on the building and the Festive Hall can be found in the PDF folder.
How to Get to the Conference Venue
We recommend you that you use public transport to get to the conference site. The simplest way is to use the underground (line U3, U1 or U4) and go to station Stubentor (U3), Stefansplatz (U1) or Schwedenplatz (U1, U4).
From the airport the best way to reach the underground is to take a regular train or the city airport train (CAT) to Wien Mitte. From there you can get to the underground station Landstraße of U3, and then go ahead one station to Stubentor.
Maps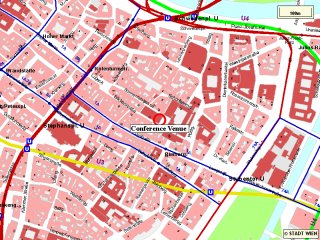 Additional maps are available electronically at the sites of the
municipal department of Vienna
.
Hotels Nearby
The following list includes some hotels near the Academy of Sciences. If you mention that you are attending an event of the Austrian Academy of Sciences you will get a small discount.
Please keep in mind that we can only give a range of prices and that you have to ask for actual room rates which are usually season dependent. Please also note that reservation services for hotels such as http://www.wien.info , http://www.hrs.com or http://www.hotels.com sometimes offer even lower rates.
Other Recommendable Hotels
This list includes hotels recommended by our visitors and partners. Even though they are outside Vienna`s centre they have very good public transport connections to the venue which can be reached within 20 minutes.
Links